By Search
Search for your Malta Flights.
Malta is a popular year-round destination with its wonderful climate and picturesque villages, there is plenty to do during your stay in Malta. Malta as a destination offers you plenty of interesting things to do and see and better still the locals are English speaking with some well spoken in other European languages. The Maltese Islands are just a short flight away from any European destination, a 3 hour flight at the most from the UK. To book an airline has become fairly easy with a good selection of carriers that operate cheap flights to Malta and there are plenty of hotels to choose from to suit your pocket.
The majority of airline carriers have made it much simpler for the traveller to book their flight with the option of online facilities offering a wide range of services to suit your requirements and budget. You will note the competitive prices when you book your Malta flight with airlines featuring a low cost for the flight. You are then given the option to add services such as baggage, priority boarding, baby car booster seats, sports, musical equipment and others. So keep an eye out for these extras when you have a tight budget. Another important factor is to remember, is make sure you print off your boarding passes, these may come at a charge should you not have them handy when checking in.
There is no off peak season for flights when you book Malta with it being an all-year- round destination. However flight costs will vary depending on the time of year due to holiday periods etc. Great accommodation packages are offered when you book Malta flights from most online portals. These packages will incorporate cheaper accommodation prices and the best deal on Malta flights.
Hotels in Malta
There is a vast selection of Malta hotels available ranging from 2 star to 5 star luxury hotels. Hotels are located all over the island with the majority being in the north and east coastal areas, to suit every budget offering a good range of facilities. Most hotels which have a website offer an online facility allowing you to book your holiday real-time.
In the north coastal area, St.Paul's Bay, is a popular destination for holidaymakers, which is now a developed area built around the original picturesque fishing village. The resorts of Bugibba and Qawra offer a good number of hotel accommodation, tourist facilities and amenities.
The coastline is primarily rocky but there are still plenty of opportunities for swimming and sunbathing, with a choice of beach clubs and lidos in the resort. There are hotels in the northern resorts of Mellieha and Golden Bay, both boasting their popular sandy beaches, each with their stunning surrounding views.
The main resorts of Sliema and St Julians are on the east coast of the Islands, both areas extremely popular and are linked by a seafront promenade. Many hotels are located on the coastal areas or on seafront promenades; others can be found tucked away in quiet streets but still in walking distance to the promenade and amenities. Sliema is more upmarket with its busy waterfront cafes, bars and many shops and small malls, whilst St Julians is considered to be the best place for entertainment in Malta, offering a bustling nightlife with an abundance of eateries, restaurants, bars, chic cafe's, clubs, cinemas, bowling alley and more. The main resort in the south of Malta is Marsascala, with its tranquillity and colourful bay, popular with the locals.
The capital of Malta, Valletta, is an ancient fortified city, a historical gem, full of culture, wonderful artefacts and beautiful buildings, dating back to the 15th century. Valletta is oozing with architectural delights, never ending streets with quirky looking buildings, some from the 15th century or from during the British governance and others more recent. Palazzo's, piazzas, monuments are just a few marvels to mention. St John's Co Cathedral, with Caravaggio's masterpiece of the Beheading of St John the Baptist, the Grand Master's Palace and War Museum. One also has plenty opportunities to enjoy a celebrated selection of local and international performances in its magnificent baroque Manoel Theatre or at St James Cavalier with its stylish architecture. Valletta is also one of the main shopping hubs in Malta, offering an abundance of indoor and outdoor cafeterias and good eateries. Valletta is a great place to stay in, with hotels located in various areas of this remarkable city, some overlooking superb harbour views, and others have views of botanic gardens or grand historic monuments.
History buffs will be enthralled with the Island's several millennia of history waiting to be explored. From fascinating archaeological sites, some of which are older than the Pyramids, various imposing buildings dating back to the 15th century from the days of the Knights of St John, to the amazing St John Co Cathedral in Valletta, Malta's capital city. Not to forget to mention the several churches throughout the Island – there is literally one for every day of the year! Museum lovers will enjoy getting lost during their visits to Malta's several treasures. Each museum houses impressive artefacts from various eras be it art, archaeology, natural history or war time. Enjoy afternoons of lazy sunbathing, water sports or take a boat trip around the striking coastline of hidden lagoons, rugged cliff tops and beaches. You can easily book for any boat trip or enquire about any other activities from the hotel front desk.
It is worth noting that throughout the year a good number of Malta hotels like to feature special promotions on their websites, which are great to take advantage of and book your flight and accommodation there and then.

You will find the Maltese Islands to be a treasure that offers great value for money with welcoming service.
---
Malta News
Date: Sun, 24 Sep 2017 11:52:00 +0200
The Barber Angels cut hair free of charge for homeless people all over Germany. Can a haircut change a life? >
Read more ...
---
Date: Sun, 24 Sep 2017 11:34:00 +0200
Updated with second shot flamingo A juvenile greater flamingo was shot in Ħal Far this morning and another, an adult, was later retrieved in Marsascala. Birdlife said in a statement that it was called at Ħal Far together with the police by a person who witnessed the bird being shot. The witness then saw the bird falling some distance from where it was hit. In another statement shortly after, the organisation said it had retrieved another shot flamingo, this time from Marsascala. Birdlife Malta's CEO Mark Sultana described this as outrageous and disgusting. He said that to make things worse, the Government seemed to be adopting a nonchalant attitude with promises of reducing fines still being considered. "We demand action on behalf of all those who love nature. We ask the public to show their concern and support us today more than ever." After being retrieved from Ħal Far, the bird was handed to the police who delivered the bird to the vet. However, it had lost a lot of blood from a completely fractured right wing and nothing could be done to save it. Due to severe gunshot wounds the vet had to put the bird down. BirdLife Malta's conservation manager Nicholas Barbara, who was on... >
Read more ...
---
Date: Sun, 24 Sep 2017 11:22:03 +0200
In early July, 1917, the food supply was in a precarious situation. The bread obtainable was enough to try the hardest stomach. A letter in the Daily Malta Chronicle described the situation: "The complaint is general, but the people are helpless. The sanitary people feed off the same kind of bread, I suppose; unless they are more fortunate in getting a digestible and palatable product, otherwise I cannot understand why such a state of affairs should not only continue, but go from bad to worse. "I have been getting my bread from different dealers, but it is all the same heavy unpalatable abomination. If kept beyond a day it will turn sour and mouldy. It may be due to the excess of moisture allowed to remain in the bread, but this circumstance should, by itself, engage the attention of the authorities, who should see that the public is not defrauded at any time, but especially in these hard times, when bread forms the staple food of most of the people. I also have my doubts whether our bread is not being adulterated..." The reader ended the letter by suggesting – in relation to food prices – that every buyer would be interested in the opening of large co-operative stores. Aster,... >
Read more ...
---
Date: Sun, 24 Sep 2017 11:17:00 +0200
While the Nationalist Party is devoting all of its energy to get out of its present crisis, the Labour government is focusing on long-term measures to improve the people's quality of life, the Prime Minister said this morning. Joseph Muscat made this remark during a short comment over the phone on One Radio. The Prime Minister's comments were made in the wake of the internal turmoil which followed Adrian Delia's election as PN leader. While the issue of Dr Delia's co-option in Parliament seems to have been solved following Jean Pierre Debono's decision to relinquish his seat, a secret electoral commission report published a few days ago has cast doubts on the election result itself. In his remarks, Dr Muscat this morning called on Dr Delia to make his position clear on the government's invite for the Opposition to nominate a member on a waste management technical committee. He noted that even though the PN leader had indicated he was not interested, the government was waiting for a definite yes or no. Commenting on the major events of the week Dr Muscat spoke on recent National Statistics Office data, which he said showed that poverty was in decline. At the same time, he accused... >
Read more ...
---
Date: Sun, 24 Sep 2017 10:58:00 +0200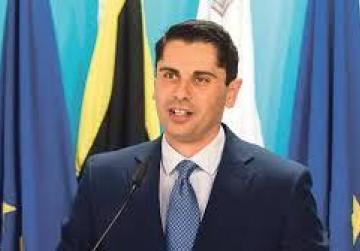 PN leader Adrian Delia this morning showered MP Jean Pierre Debono with praise for offering to give up his seat for the good of the party and country. Speaking during an interview on Radio 101, Dr Delia expressed his great respect for Mr Debono, and thanked other candidates on the seventh district for already indicating they too would give up their seat if elected during the casual election. For Dr Delia to finally get a seat in Parliament, the person elected instead of Mr Debono would have to resign so that the PN leader could be co-opted. Dr Delia stressed that Mr Debono's decision was a selfless act and not part of some deal. Mr Debono, who was also interviewed, said he would be handing in his resignation from Parliament tomorrow. He said he had a "sleepless night over the decision" prior to offering to give up his seat, in what he described as the most difficult decision he had ever taken. Mr Debono appealed to his colleagues on the seventh district to immediately pass on this seat to Dr Delia. He said it was imperative that the party united behind Dr Delia, as the PN was not yet functioning as it should as a party in Opposition. Dr Delia explained during the interview that... >
Read more ...
---