By Search
Search for your Malta Flights.
Malta is a popular year-round destination with its wonderful climate and picturesque villages, there is plenty to do during your stay in Malta. Malta as a destination offers you plenty of interesting things to do and see and better still the locals are English speaking with some well spoken in other European languages. The Maltese Islands are just a short flight away from any European destination, a 3 hour flight at the most from the UK. To book an airline has become fairly easy with a good selection of carriers that operate cheap flights to Malta and there are plenty of hotels to choose from to suit your pocket.
The majority of airline carriers have made it much simpler for the traveller to book their flight with the option of online facilities offering a wide range of services to suit your requirements and budget. You will note the competitive prices when you book your Malta flight with airlines featuring a low cost for the flight. You are then given the option to add services such as baggage, priority boarding, baby car booster seats, sports, musical equipment and others. So keep an eye out for these extras when you have a tight budget. Another important factor is to remember, is make sure you print off your boarding passes, these may come at a charge should you not have them handy when checking in.
There is no off peak season for flights when you book Malta with it being an all-year- round destination. However flight costs will vary depending on the time of year due to holiday periods etc. Great accommodation packages are offered when you book Malta flights from most online portals. These packages will incorporate cheaper accommodation prices and the best deal on Malta flights.
Hotels in Malta
There is a vast selection of Malta hotels available ranging from 2 star to 5 star luxury hotels. Hotels are located all over the island with the majority being in the north and east coastal areas, to suit every budget offering a good range of facilities. Most hotels which have a website offer an online facility allowing you to book your holiday real-time.
In the north coastal area, St.Paul's Bay, is a popular destination for holidaymakers, which is now a developed area built around the original picturesque fishing village. The resorts of Bugibba and Qawra offer a good number of hotel accommodation, tourist facilities and amenities.
The coastline is primarily rocky but there are still plenty of opportunities for swimming and sunbathing, with a choice of beach clubs and lidos in the resort. There are hotels in the northern resorts of Mellieha and Golden Bay, both boasting their popular sandy beaches, each with their stunning surrounding views.
The main resorts of Sliema and St Julians are on the east coast of the Islands, both areas extremely popular and are linked by a seafront promenade. Many hotels are located on the coastal areas or on seafront promenades; others can be found tucked away in quiet streets but still in walking distance to the promenade and amenities. Sliema is more upmarket with its busy waterfront cafes, bars and many shops and small malls, whilst St Julians is considered to be the best place for entertainment in Malta, offering a bustling nightlife with an abundance of eateries, restaurants, bars, chic cafe's, clubs, cinemas, bowling alley and more. The main resort in the south of Malta is Marsascala, with its tranquillity and colourful bay, popular with the locals.
The capital of Malta, Valletta, is an ancient fortified city, a historical gem, full of culture, wonderful artefacts and beautiful buildings, dating back to the 15th century. Valletta is oozing with architectural delights, never ending streets with quirky looking buildings, some from the 15th century or from during the British governance and others more recent. Palazzo's, piazzas, monuments are just a few marvels to mention. St John's Co Cathedral, with Caravaggio's masterpiece of the Beheading of St John the Baptist, the Grand Master's Palace and War Museum. One also has plenty opportunities to enjoy a celebrated selection of local and international performances in its magnificent baroque Manoel Theatre or at St James Cavalier with its stylish architecture. Valletta is also one of the main shopping hubs in Malta, offering an abundance of indoor and outdoor cafeterias and good eateries. Valletta is a great place to stay in, with hotels located in various areas of this remarkable city, some overlooking superb harbour views, and others have views of botanic gardens or grand historic monuments.
History buffs will be enthralled with the Island's several millennia of history waiting to be explored. From fascinating archaeological sites, some of which are older than the Pyramids, various imposing buildings dating back to the 15th century from the days of the Knights of St John, to the amazing St John Co Cathedral in Valletta, Malta's capital city. Not to forget to mention the several churches throughout the Island – there is literally one for every day of the year! Museum lovers will enjoy getting lost during their visits to Malta's several treasures. Each museum houses impressive artefacts from various eras be it art, archaeology, natural history or war time. Enjoy afternoons of lazy sunbathing, water sports or take a boat trip around the striking coastline of hidden lagoons, rugged cliff tops and beaches. You can easily book for any boat trip or enquire about any other activities from the hotel front desk.
It is worth noting that throughout the year a good number of Malta hotels like to feature special promotions on their websites, which are great to take advantage of and book your flight and accommodation there and then.

You will find the Maltese Islands to be a treasure that offers great value for money with welcoming service.
---
Malta News
Date: Fri, 30 Sep 2016 20:20:01 +0200
Police unions have renewed their appeal for officers to be given body cameras after research showed they dramatically helped reduce complaints against the police. A Cambridge University study released yesterday showed that complaints by members of the public against officers fell by 93 per cent in one year. Lead researcher Barak Ariel was quoted saying that no other policing measure had led to such "radical" changes. The experiment involved almost 2,000 officers in four UK forces and two US police departments. The findings were welcomed by the two police unions in Malta, which called for body cameras to be introduced in the force. Inspector Sandro Camilleri of the Police Officer's Union, an affiliate of the General Workers' Union, said body cameras were "a must". "In today's prevalent climate where respect towards police officers has waned and people try to make you out to be a liar, body cameras could provide the necessary evidence to resolve sticky situations," Mr Camilleri said. He said some of his union's members bought their own body and dashboard cameras because it made them feel safe. Body cameras are usually small, clip-on devices that stick to the top half of an... >
Read more ...
---
Date: Fri, 30 Sep 2016 20:12:00 +0200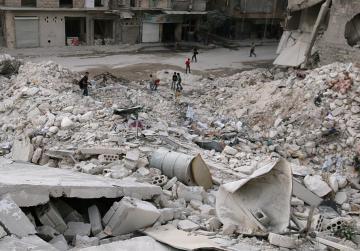 Russia is sending more warplanes to Syria to ramp up its campaign of air strikes, a Russian newspaper reported today, as Moscow defied global censure over an escalation that Western countries say has torpedoed diplomacy. US President Barack Obama and German Chancellor Angela Merkel described the Russian and Syrian bombing of the city of Aleppo as "barbarous", the White House said after the two leaders spoke by telephone. Fighting intensified a week into a new Russian-backed government offensive to capture all of Syria's largest city and crush the last remaining urban stronghold of the rebellion. Moscow and its ally, Syrian President Bashar al-Assad, spurned a ceasefire agreed this month to launch the offensive, potentially the biggest and most decisive battle in the Syrian civil war which is now in its sixth year. Russian Foreign Minister Sergei Lavrov said today that Moscow was ready to consider more ways to normalise the situation in Aleppo. But in a phone call with US Secretary of State John Kerry, Lavrov criticised Washington's failure to separate moderate rebel groups from those the Russians call terrorists, which had allowed forces led by the group formerly known as the... >
Read more ...
---
Date: Fri, 30 Sep 2016 20:03:00 +0200
Ħamrun Spartans broke little sweat to ease past a poor Mosta side 5-2 at the National Stadium. The Reds were off to a flyer and after six minutes Haruna Garba picked up possession on the edge of the area and hit a rasping drive that gave no chance to Mosta goalkeeper Yenz Cini. Ħamrun doubled their lead on 14 minutes. They were awarded a central free-kick and Jake Grech's curling drive came off the bar. Jorginho was first on the rebound and headed home.On 29 minutes, Garba sped past Triston Grant and squared the ball towards the sprinting Jake Grech who bundled the ball home.Mosta's reaction was inexistent and in stoppage time, Garba met Grech's delivery from a corner and headed past Cini.The Blues pulled a goal back on 48 minutes when Kemar Reid's low drive had the better of Matthew Farrugia, the Ħamrun goalkeeper.But the Spartans restored their four-goal lead on 73 minutes when Saturday Nanapere was upended in the area by Emerson Vella and Grech made no mistake from the resultant penalty.Mosta scored a second consolation goal ten minutes from time. Reid took responsibility of a central free-kick and his curler flew into the net.Ħamrun striker Haruna Garba was voted the BOV... >
Read more ...
---
Date: Fri, 30 Sep 2016 19:52:02 +0200
Failing her pilot's test twice should have been the end of the road for Mandy Hickson, but the determined woman went on to become one of the first RAF female fast jet pilots. Ms Hickson, who is on her first trip to Malta, was the second woman to fly a Tornado GR4 on the front line, completing three tours of duty and 45 missions over Iraq. Having first become interested in flying aged 13, she soon set her eyes on her chosen career and received an RAF flying scholarship, allowing her to gain a private pilot's licence by the age of 18. "At this time, there were some fairly large obstacles in my way. Firstly, women were not allowed to be fast jet pilots in the RAF. The second, rather large barrier, was the fact that when they did open the doors to women [in 1992], I went on to fail all the aptitude tests to become a pilot. "I had approximately 200 hours of flying under my belt by this stage and I was devastated," she recounted, ahead of a workshop in Malta on managing critical business risks. Fortunately, the squadron commander at a university club believed that Ms Hickson had the potential to make it to the front line. "He requested that two impartial flying examiners come and... >
Read more ...
---
Date: Fri, 30 Sep 2016 19:01:09 +0200
Leo Brincat's appointment as a member of the European Court of Auditors shed a "bad light" on the Maltese government, the vice chairwoman of the European Parliament's Budgetary Control Committee warned. Czech Liberal MEP Martina Dlabajova expressed this sentiment yesterday when asked by the Times of Malta for her reaction to the European Council's controversial decision to approve Mr Brincat's appointment, going against the recommendation of the European Parliament. Two weeks ago, a majority of MEPs voted against Malta's nominee for the Luxembourg-based institution with 381 votes against and 229 in favour. However, the EP's decision was not legally binding, and the Council yesterday decided against its recommendation. The government had originally nominated Labour Party deputy leader Toni Abela to the post, but he was rejected by the Budgetary Committee. Mr Brincat will succeed former minister and speaker Louis Galea. An aggrieved Ms Dlabajova yesterday did not mince her words when asked for her views on the Council's decision, which followed the positive recommendation given on September 21 by Coreper II. The latter comprises permanent representatives from each member... >
Read more ...
---