By Search
Search for your Malta Flights.
Malta is a popular year-round destination with its wonderful climate and picturesque villages, there is plenty to do during your stay in Malta. Malta as a destination offers you plenty of interesting things to do and see and better still the locals are English speaking with some well spoken in other European languages. The Maltese Islands are just a short flight away from any European destination, a 3 hour flight at the most from the UK. To book an airline has become fairly easy with a good selection of carriers that operate cheap flights to Malta and there are plenty of hotels to choose from to suit your pocket.
The majority of airline carriers have made it much simpler for the traveller to book their flight with the option of online facilities offering a wide range of services to suit your requirements and budget. You will note the competitive prices when you book your Malta flight with airlines featuring a low cost for the flight. You are then given the option to add services such as baggage, priority boarding, baby car booster seats, sports, musical equipment and others. So keep an eye out for these extras when you have a tight budget. Another important factor is to remember, is make sure you print off your boarding passes, these may come at a charge should you not have them handy when checking in.
There is no off peak season for flights when you book Malta with it being an all-year- round destination. However flight costs will vary depending on the time of year due to holiday periods etc. Great accommodation packages are offered when you book Malta flights from most online portals. These packages will incorporate cheaper accommodation prices and the best deal on Malta flights.
Hotels in Malta
There is a vast selection of Malta hotels available ranging from 2 star to 5 star luxury hotels. Hotels are located all over the island with the majority being in the north and east coastal areas, to suit every budget offering a good range of facilities. Most hotels which have a website offer an online facility allowing you to book your holiday real-time.
In the north coastal area, St.Paul's Bay, is a popular destination for holidaymakers, which is now a developed area built around the original picturesque fishing village. The resorts of Bugibba and Qawra offer a good number of hotel accommodation, tourist facilities and amenities.
The coastline is primarily rocky but there are still plenty of opportunities for swimming and sunbathing, with a choice of beach clubs and lidos in the resort. There are hotels in the northern resorts of Mellieha and Golden Bay, both boasting their popular sandy beaches, each with their stunning surrounding views.
The main resorts of Sliema and St Julians are on the east coast of the Islands, both areas extremely popular and are linked by a seafront promenade. Many hotels are located on the coastal areas or on seafront promenades; others can be found tucked away in quiet streets but still in walking distance to the promenade and amenities. Sliema is more upmarket with its busy waterfront cafes, bars and many shops and small malls, whilst St Julians is considered to be the best place for entertainment in Malta, offering a bustling nightlife with an abundance of eateries, restaurants, bars, chic cafe's, clubs, cinemas, bowling alley and more. The main resort in the south of Malta is Marsascala, with its tranquillity and colourful bay, popular with the locals.
The capital of Malta, Valletta, is an ancient fortified city, a historical gem, full of culture, wonderful artefacts and beautiful buildings, dating back to the 15th century. Valletta is oozing with architectural delights, never ending streets with quirky looking buildings, some from the 15th century or from during the British governance and others more recent. Palazzo's, piazzas, monuments are just a few marvels to mention. St John's Co Cathedral, with Caravaggio's masterpiece of the Beheading of St John the Baptist, the Grand Master's Palace and War Museum. One also has plenty opportunities to enjoy a celebrated selection of local and international performances in its magnificent baroque Manoel Theatre or at St James Cavalier with its stylish architecture. Valletta is also one of the main shopping hubs in Malta, offering an abundance of indoor and outdoor cafeterias and good eateries. Valletta is a great place to stay in, with hotels located in various areas of this remarkable city, some overlooking superb harbour views, and others have views of botanic gardens or grand historic monuments.
History buffs will be enthralled with the Island's several millennia of history waiting to be explored. From fascinating archaeological sites, some of which are older than the Pyramids, various imposing buildings dating back to the 15th century from the days of the Knights of St John, to the amazing St John Co Cathedral in Valletta, Malta's capital city. Not to forget to mention the several churches throughout the Island – there is literally one for every day of the year! Museum lovers will enjoy getting lost during their visits to Malta's several treasures. Each museum houses impressive artefacts from various eras be it art, archaeology, natural history or war time. Enjoy afternoons of lazy sunbathing, water sports or take a boat trip around the striking coastline of hidden lagoons, rugged cliff tops and beaches. You can easily book for any boat trip or enquire about any other activities from the hotel front desk.
It is worth noting that throughout the year a good number of Malta hotels like to feature special promotions on their websites, which are great to take advantage of and book your flight and accommodation there and then.

You will find the Maltese Islands to be a treasure that offers great value for money with welcoming service.
---
Malta News
Date: Fri, 24 Nov 2017 12:09:00 +0100
The amount of information available in the world continues to double every fraction of a second. For Alan Moore, the creator of V for Vendetta, this saturation of knowledge is a problem. We're overwhelmed, and when we're overwhelmed, the walls come up. Could information overload be behind the fascist renewal? >
Read more ...
---
Date: Fri, 24 Nov 2017 12:06:00 +0100
The first in a series of collective agreements between Air Malta and its workers was signed this morning, after the airline and the Association of Airline Engineers reached an agreement covering the next five years. The collective agreement was described a "landmark agreement" by Air Malta chairman Charles Mangion. "This is a landmark agreement that shows we value our workers. "Despite the company's challenges we are making sure that we provide workers with opportunities," Dr Mangion said. Tourism Minister Konrad Mizzi said that the agreement will provide stability in the industrial relations of a sector that is crucial for the running of the airline. The press conference is still underway. Times of Malta reported a week ago that talks between the airline and workers' unions were making significant progress with preliminary deals already struck the Union of Cabin Crew, the Airline Engineers' Association and the General Workers' Union.   It reported that new conditions offered to engineers, include a reduction in the number of shifts while increasing productivity. >
Read more ...
---
Date: Fri, 24 Nov 2017 12:04:13 +0100
Il-Majjistral Nature and History Park is celebrating its 10th anniversary with a series of activities throughout this month and the coming year. Starting on Sunday at 10am families and nature lovers are invited to take part in free guided walks which will be held throughout the day by volunteers and park experts. Visitors will meet at the park's visitor centre, where they can watch an introductory documentary about nature and life at the park. At the end of each walk visitors will be given a 10th anniversary pack as a souvenir. Information about the park and its endeavours, including free guided walks by volunteers and park experts, will be carried out between 10am and 4 pm. For more information, visit http://mt.majjistral.org . >
Read more ...
---
Date: Fri, 24 Nov 2017 11:59:00 +0100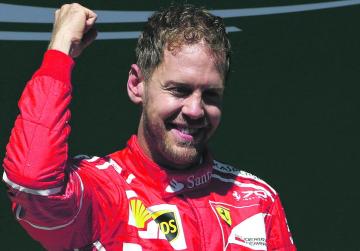 Sebastian Vettel picked up where he left off in Brazil to edge out world champion Lewis Hamilton in opening practice for the final race of the year in Abu Dhabi. Vettel ended a seven-race winless streak at Interlagos a fortnight ago, and he would appear in contention to end the season with successive victories after soaring to the top of the time sheets. The Ferrari driver, who traded playful jibes with Hamilton in Thursday's press conference ahead of the season finale in the desert, posted a best lap of one minute and 39.006 seconds to finish clear of Hamilton with Red Bull's Max Verstappen in third. Hamilton and Verstappen were one tenth-of-a-second adrift of Vettel at a predictably sun-drenched Yas Marina circuit, with Ferrari's Kimi Raikkonen 0.512 sec behind in fourth and Mercedes' Valtteri Bottas fifth. Both Vettel, who needs to finish only eighth to seal the runner-up spot in this year's title race, and Hamilton have won on three occasions in Abu Dhabi, and started from pole position three times, too, and the pair look set to dominate here once more. Verstappen, who has enjoyed a strong second half of a season that has included two wins, is poised to keep them both on... >
Read more ...
---
Date: Fri, 24 Nov 2017 11:52:00 +0100
Organist David Davies will be giving free organ master classes for organ students or pianists who would like an introduction to the organ on Saturday at the Xewkija Parish Church from 11am. The classes are part of the educational programme in the communities of the Malta International Organ Festival, which was awarded the Effe label from the European Festivals Association this year. The Effe label is an EU-backed label for remarkable festivals run by the European Festivals Association. Mr Davies is a lecturer in music theory at the University of Surrey. He is one of the most exciting concert organists of his generation, and is in demand as a versatile musician and educator. His abilities as a solo keyboard player, choir director, teacher, lecturer and orchestral conductor have taken his career all over the world, and his diverse experience of Western church music spans 25 years. These master classes will give participants an insight on the technique and interpretation skills required from a professional organist. All students will receive some individual attention in a group master class setting. Mr Davies gave a solo organ recital at the Xewkija Parish Church on Thursday as... >
Read more ...
---